Recommended Global Ophthalmology Conferences
Asia Pacific & Middle East
Graphene 2020
About Conference
Graphene 2020 is pleased to welcome all the participants across the globe for 4th International Conference and Expo on Graphene Technologies and Carbon Nanotubes which will be held at Milan, Italy during September 23-24, 2020 which consists of prompt keynote presentations, debates, Oral talks, Poster presentations, workshops, and scientific sessions.
Graphene 2020 aims to bring together Academicians, researchers, scientists, industrialists, and scholar students to share and exchange their knowledge, experiences, new ideas, and research results regarding all aspects of Graphene and Carbon Nanotubes and to discuss the practical challenges encountered and the solutions adopted. As well as to establish new collaborations and to widen the professional contacts. The meeting presents a detailed description of the theme "Assessment and implementation of a new vision and graphene technology"
Graphene Technology showcases the latest grapene research and development on realistic commercial applications and technologies. Demand for Graphene technology is expected to gain momentum for products including semiconductors, energy storage and generation devices, and sensors. The strength and versatility of the Carbon nanotubes make them potentially useful in manipulating other nano-scale structures, indicating that they will play a prominent role in Nano Technology. The meeting will provide a forum for sharing new ideas regarding Advances in Graphene Physics, Carbon nanochips and nanostructures, Chemistry and Biology studies of Graphene, Graphene and Biomaterials for health care, etc.
Why to attend the Graphene 2020?
Experts from across the globe are focused on finding out about Graphene Technologies and Carbon nanotubes. This is best opportunity to achieve the biggest array of members from Graphene people group. Direct introductions, convey data, meet with present and potential researches, and acquire knowledge from the current and trending Graphene technologies, make a plunge of new research and get name recognition at this 2-day gathering. World renowned speakers, the latest technologies, strategies, and developments in the fields of Industrial Graphene are the hallmarks of the conference.
Target audience for the conference:
Academicians
Researchers from top universities
Scientists from top research institutes
Nanotechnology Students
Nanotechnology Researchers
Nanotechnology Faculty
Nanotechnology Associations and Societies
Directors/CEO
Managers/Engineers
Training Industries
Manufacturing Medical Devices Companies
Industrial Professionals
Professionals in Media sector
Sessions and Tracks
Conference Highlights
Market Analysis
Market Analysis
Graphene is typically a single layer material extracted from graphite by using various technologies like chemical vapor deposition (CVD) and mechanical exfoliation. It is a hexagonal lattice made up of a thin layer of tightly packed six carbon atoms. It is considered as the world's thinnest and strongest material and exhibits superior thermal and electrical conductivity. Carbon nanotubes are primarily used in applications such as electrical and electronics industries, and polymers. Carbon nanotubes have the ability to replace the steel for various applications. They are widely used to improve properties of strength and weight in polymers as reinforcing material. Carbon nanotubes have the ability to replace the steel for various applications.
Expanding the electronics and the semiconductor industry across the globe is considered as the prime factor strengthening the global Graphene market growth. Increasing purchasing power and surging demand for consumer electronics such as tablets and mobile phones are likely to proper the Graphene market. Carbon nanotubes find application in the electrical and electronics industry in the manufacture of a wide range of electronic display screens used across different consumer electronics such as mobile phones, television, computer monitors etc. The globally expanding electrical and electronics industry. combined with an increasing inclination toward renewable energy, will increase the carbon nanotubes work.
Graphene Market size was valued at around $35 million in 2018 and the industry will register over 35% CAGR through 2026. During the evaluation, the high production costs of Graphene and the associated environmental impacts are projected to hinder global market development. In 2017, the size of the Carbon Nanotubes Market was over 2 billion, with an expected growth of over 22 % CAGR between 2018 and 2024.
Key players:
The key players operating in the global Graphene and Carbon nanotubes market share include: Hyperion Catalysis international, Inc. (United States), Graphenea S.A (Spain), Applied Graphene Materials plc (United Kingdom), ACS Materials LLC (United States) , Haydale Limited (United Kingdom), Grafoid Inc. (Canada), Angstron Materials, Inc. (United States), Applied Nanotech, Inc. (United States), XG Sciences (United States), Nanothinx S.A. (Greece), Continental Carbon Nanotechnologies (United States), Klean Commodities (Canada), Nanocyl S.A (Belgium), and Arkerma S.A. (France) among others
Segments:
The global Graphene market share has been segmented into Graphene oxide, Graphene nanoplatelets, Electronic application and aerospace and defense. The Carbon nanotubes market Share has been segmented into polymers, energy, electric and electronics, medical, chemical and optical devices.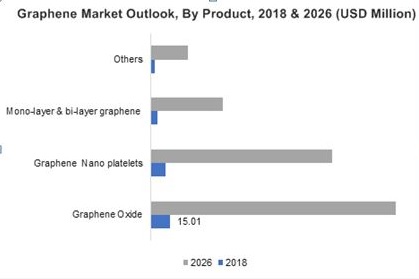 Regional analysis:
North America is projected to stay at the forefront of the Graphene industry by 2026 owing to the robust research and development activities in the region. Growing prevalence of research institutes and universities and increasing collaboration with product manufacturers to develop next- generation Graphene for aerospace and defense and Electronic industries are expected to propel the Graphene market value. Asia Pacific was the largest revenue –generating region on the global market for carbon nanotubes in 2017 and will show similar trends over the forecast period. Asia Pacific held a market accounted for over 21% throughout the period.
Past Conference Report
Graphene 2019
Past Conference Report
Graphene 2019
Graphene 2019 Report
We gratefully thank all our wonderful Speakers, Conference Attendees, Students, Media Partners, and Associations for making Graphene 2019 Conference the best ever!
The 4th International Conference and Expo Graphene Technology and Carbon Nanotubes , hosted by the Conferenceseries LLC Ltd was held during September 23-24, 2019 Milan, Italy based on the theme "Assessment and implementation of a new vision and Graphene technology ". Benevolent response and active participation was received from the Organizing Committee Members along with Professors, Researchers, Students and leaders from various fields of Graphene Technology and Carbon Nano Tubes, who made this event a grand success.
Conferenceseries LLC Ltd expresses its gratitude to the conference Moderator for taking up the responsibility to coordinate during the sessions. We are indebted to your support.
The conference was initiated with the Honourable presence of the Keynote forum. The list includes:
The meeting reflected various sessions, in which discussions were held on the following major scientific tracks:
Graphene and its applications
Carbon Nanotubes and its Applications
Graphene and 2D materials Nanocomposites
Emerging trends in the field of Graphene Research
Chemistry and biology studies in Graphene
Graphene and Biomaterials health care
Advanced 2D Materials
Synthetic Graphite and Natural Graphite
Graphene modifications and functionalization
Novel Hybrid carbon materials
Large scale Graphene production and characterization
Graphene Synthesis
Advances in Graphene Physics
Graphene and Graphene Oxide
Graphite, Graphene and their polymer nanocomposite materials
Graphene chemistry
Graphene 2019 Conference offers its heartfelt appreciation to Organizing Committee Members, Honourable Guests, Chair, various outside experts, company representatives; eminent personalities who interlaced with Conference and supported the conference in every aspect, without your support the conference would not be possible.
Your rejoinder is our inspiration; keeping this motto in mind and being witnessed the triumph of Graphene 2020. Graphene 2020 Conference would like to announce the commencement of the "NanoPharma 2019" to be held during March 23-24, 2020. Milan, Italy we welcome all the eminent researchers, students and delegate participants to take part in this upcoming conference to witness invaluable scientific discussions and contribute to the future innovations in the field of Nanomedicine and Pharmaceutical Nanotechnology.
For More details: https://graphene.conferenceseries.com/
Let us meet again @ Graphene 2020
Past Reports
Gallery
To Collaborate Scientific Professionals around the World
Conference Date September 23-24, 2020
For Sponsors & Exhibitors